2023 Europeans Results
24 September 2023
2023 European Champoinships, September 16 to 22, JK Pirat, Protoroz / SLO
70 teams, 9 nations, 8 races sailed
Tom Gillard and Andy Thompson have won the Fireball European Championship at Portroz, Slovenia. The pair scored six bullets out of 8 races . 2nd Vince Horey/Dave Wade (GBR), 3rd Claude Mermod/Ruedi Moser (SUI).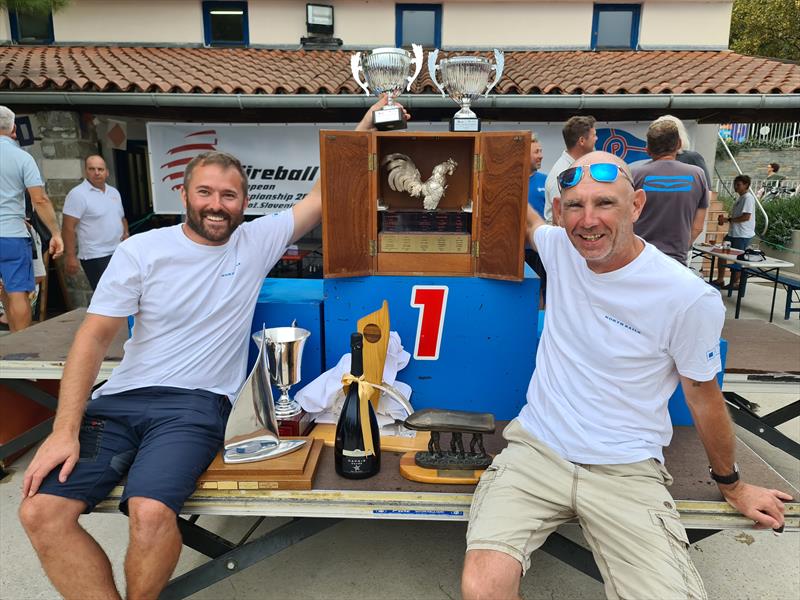 Rece reports from Frank Miller and Chris Payne:
Sunday - Day 1
A lot of floating around. 3 starts and almost made it to the wing mark. So all the boats are still in first place. Except the many BFDs. 3 races scheduled for tomorrow.
Monday - Day 2
Finnally got a race in in light tricky conditions. A number of BFDs from today and left over from yesterday. Hearther MacFarlane & Chris Payne led from start to finish with some high pressure from Tom Gillard & Andy Thompson (BFD) and Claude Mermod & Ruedi Moser.
Tuesday - Day 3
The fleet on Tuesday headed out to the race area in an excellent breeze, but it faded steadily and by the start was averaging about eight knots. A decent start was crucial for clear air, as was the ability to keep boats moving through flat patches. There were quite big shifts and changes in angles both upwind and offwind and differences in pressure around the course. Only one race was finished. Swiss Claude Mermod & Ruedi Moser won followed by Alois Verkest & Bernard Biscay (FRA) and Nick Rees & Evelyne Schotte (GBR). Aussies Heather MacFarlane & Chris Payne came 4th.
Wednesday - Lay day
Claude Mermod & Ruedi Moser (SUI) lead the field after two races in the 70 boat Fireball European Championship at Portorož in Slovenia. Lying second overall are Aussies Heather MacFarlane & Chris Payne just two points behind the Swiss team. Third overall are Alois Verkest & Bernard Biscay of France. Vince Horey and Dave Wade are 4th on 11 points. 
The team who would have initially been event favourites, Tom Gillard & Andy Thompson, were 13th in race two, but their black flag from the first race hangs over them with a 36th place total. A discard kicks in after five races but the forecast for the rest of the week is unpredictable - marginally better than breezes to date but by no means assured.
Other countries featuring in the top include the Czech and French teams. Slovenia has entered in force with a good number of young sailors taking part. Team Ireland are happy to have two boats in the top ten. Josh Porter and Cara McDowell are lying 7th overall and Adrian and Ossian are in 10th place.
The traditional crews' dinner took place on Tuesday night. This was a very high class event generously hosted by Fireball Slovenia.
Wednesday was the lay day and there wasn't enough optimism about the forecast to abandon that in favour of racing. For the remaining races on Thursday and Friday the race officer will attempt three races per day, conditions permitting, but the forecast remains tricky.
Thursday - Day 4
After 5 races, 3 today, Vice Horey & Dave Wade are on equal points with leaders Claude & Ruedi. Tom Gillard & Andy Thompson are very much back in the frame with 3 bullets from today's races placing them 3rd overall. 
Race one was sailed in champagne conditions - warm winds of 18 knots and gusting.
Race two started in medium winds but dropped light especially on the final run. 
The last race was sailed in light airs with massive and frequent shifts on the first beat and many very super light patches. The race officer did exceptionally well and rightly waited for two weather systems to blow through before attempting the third race of the day. 
With the forecast for the final day of racing tomorrow (Friday) promising decent breezes all is still to play for and Tom Gillard & Andy Thompson will be fighting hard to make it to the top of the podium.
Friday – Final Day
An other amazing day of sailing with warm water and almost sunshine. Racing started early at around 10am and by 2pm the race officer had two races in the bag. Despite the relatively fresh conditions there were still plenty of shifts and variations in pressure around the course. Luckily the only black cloud went around the fleet during a gap between the races.
Tom Gillard & Andy Thompson scored three bullets during the final day of racing in a spectacular conditions with winds typically around 18 knots but gusting over twenty knots at times.
Vince Horey & Dave Wade finished 2nd while event leader Claude Mermod & Ruedi Moser finished 3rd. Czech team of Martin Kubovy & Roman Rocek finished 4th while UK father & son team Graham and William Cook were 5th.
Thanks to all the volounteers and the staff. They were very friendly and competent. They did a really great job.
We had a geat time in Portoroz. The location suits the class very well.