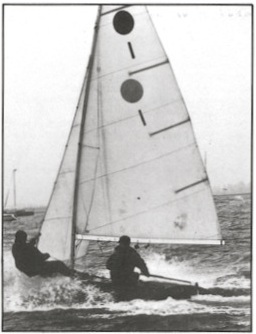 Fireball's beginnings lie in the North American A-Class scows that had attracted the interest of Peter Milne, a British boat designer. After a number of years of planning Peter built the first Fireball, with the sponsorship of his employers, Norris Brothers, in a barn in Sussex, UK, during the winter of 1961/2.
The pre-production prototype, these days known as Fireball '0' and resting in the UK's National Maritime Museum, was tested with and without trapeze but not, as far as is known with a spinnaker, although there is no doubt Peter had that option very much in mind at the outset. The unusual design attracted immediate interest but it was Fireball's sailing performance that quickly turned heads. Sailed without a trapeze, Fireball produced a sparkling performance once the wind increased and was clearly faster boat-for-boat than established dinghies of a similar size.
Despite being designed very much with amateur construction in mind, the earliest Fireballs were built professionally by Jack Chippendale and, a little later, Plycraft. However, amateur-built hulls soon emerged from garages and living rooms and remained a feature of the class for many decades. Initial growth in numbers was driven by the UK swiftly followed by Ireland and France.
Use of a trapeze was permitted from 1965 during which year sail numbers reached 1,000. The inaugural world championship, held in the UK, followed in 1966 the same year as a prototype GRP hull, built by Jack Chippendale, was launched.
The next fire years saw Fireballs produced at great pace and the introduction of a spinnaker from 1969 fuelled numbers further.
Sail numbers reached 5,000 in 1970 and, with Fireballs now sailed all around the world, international status was conferred upon the class in that year. At the same time, the need for worldwide administration of the class was recognised and Fireball International was constituted. This provided further impetus for growth and by 1973 Fireball was being sailed in 68 countries and two years later the 10,000th sail number was issued.
The pace of growth started to slow in from the late 1970s for a number of reasons but the class retained a strength in depth that continues to this day. This is partly due to a basic hull shape that has remained relatively constant given fairly tight measurement tolerances. A Fireball built in 1962 remains outwardly very similar to one built 50 years later. There have been many variations of rig and cockpit layout although construction materials have been tightly controlled but not to the degree that risked the future of the class.
Fibreglass hull construction started in Australia form the early 80's. These boats looked spectacular but lacked a little in strength. A rule change in the early 90's made FRP construction simpler and stronger, leading to new moulds being produced in the United Kingdom, Australia and Switzerland. Since that date, hulls have been produced with a fairly consistent design to measurements that, with the benefit of half a century's experience, are judged optimal. However, the freedom of choice in rigs is such that sailors of varying builds can race successfully against each other.
Through the enthusiasm of her many fans, Fireball has reached her 50th birthday in great shape with over 15,000 examples built. For the club sailor, she remains the most popular of all traditional single trapeze, symmetric spinnaker classes and yet she continues to attract the attention of the established stars of the dinghy sailing world. Over-arching all of this, the Fireball Class has a long standing reputation for being a friendly class where newcomers are welcomed and sailors of all standards are encouraged to get on the water and join in.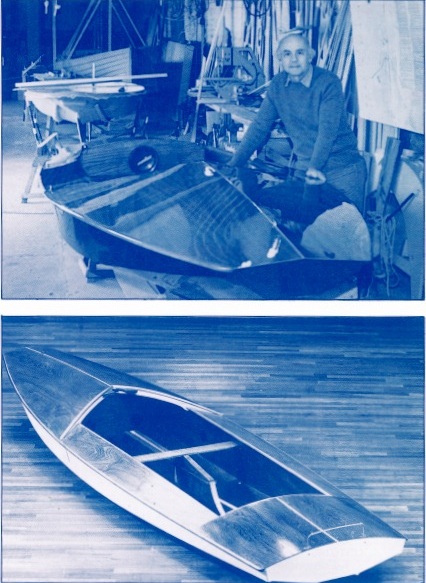 Fireball 2 with builder Jack Chippendale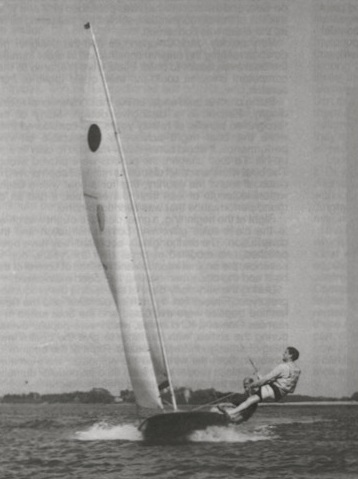 Fireball 1