Lough Derg / Dromineer / IRL
Info @ LDYC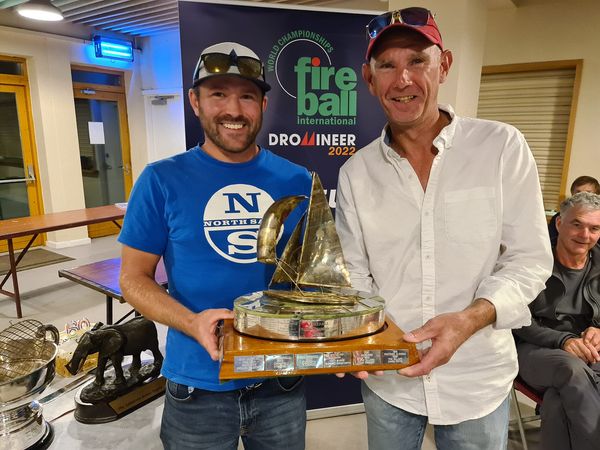 Tom                                          Andy
Congratulations to Tom Gillard and Andy Thompson for winning the 2022 World Championship held at Lough Derg, County Tipperary, IRL.
It was a light-to-medium airs event and every race was hard fought, but this pairing managed to win by 8 points in the end.
| Pos | Helm & Crew | Sail No | Pts |
| --- | --- | --- | --- |
| 1 | Tom Gillard & Andy Thompson | GBR 15122 |  9 |
| 2 | Claude Mermod & Ruedi Moser | SUI 14799 |  17 |
| 3 | Heather MacFarlane & Chris Payne | AUS 15152 |  30 |
| 4 | Barry McCartin & Conor Kinsella | IRL 15093 |  33 |
| 5 | Jiri Paruzek & Jakub Kosvica | CZE 15141 |  47 |
| 6 | Martyn & Daniel Lewis | GBR 15151 |  49 |
| 7 | David Hall & Paul Constable | GBR 15155 |  56 |
| 8 | Isaac Marsh & Oliver Davenport | GBR 15162 |  66 |
| 9 | Christina Haerdi & Cedric Landerer | SUI 14859 |  69 |
| 10 | Derian & Andy Scott | GBR 14941 |  73 |
Other additional prizes were awarded:
Perseverance Trophy: Barbara & Guy Newsome; GBR 14872, (77th)
Classic Trophy: David Evans & William Draper; IRL 14213 (54th)
Modern Classic: Tiarnan Browne & Oisin McAllister; IRL 14637 (45th)
Youth Prize: Tiarnan Browne & Oisin McAllister; IRL 14637 (45th)
First All-Female Prize: Katie Byne & Lia Horne; GBR 14883 (17th)
Veteran Prize: Heather MacFarlane & Chris Payne; AUS 15152
It was great to see so many young pairings, with Katie Byne and Lia Horne finishing 17th overall - the highest placed U26 boat!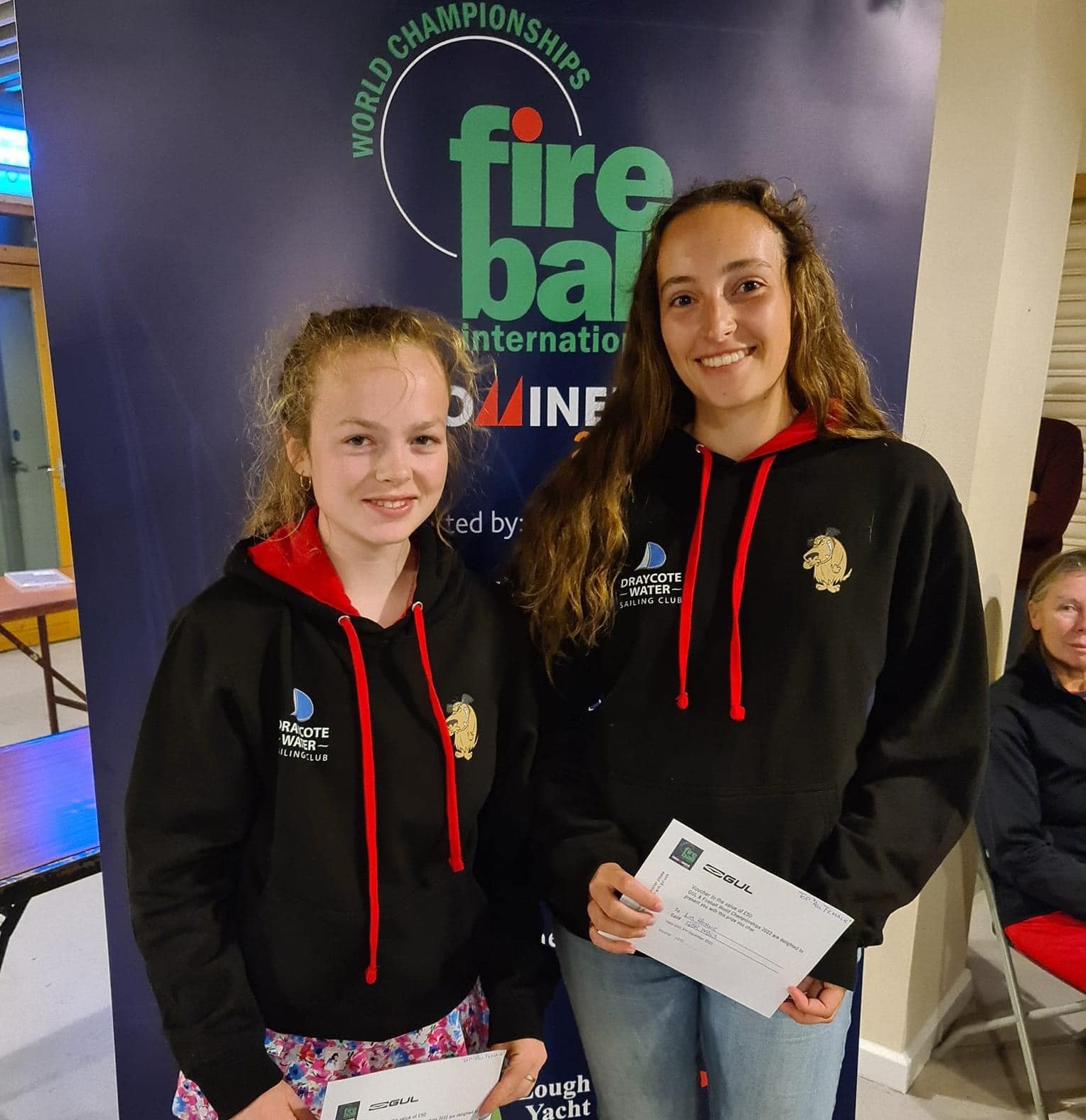 We all had a very good time at Lough Derg Yacht Club. Thanks to all the volountieres and sponsors who made it happen!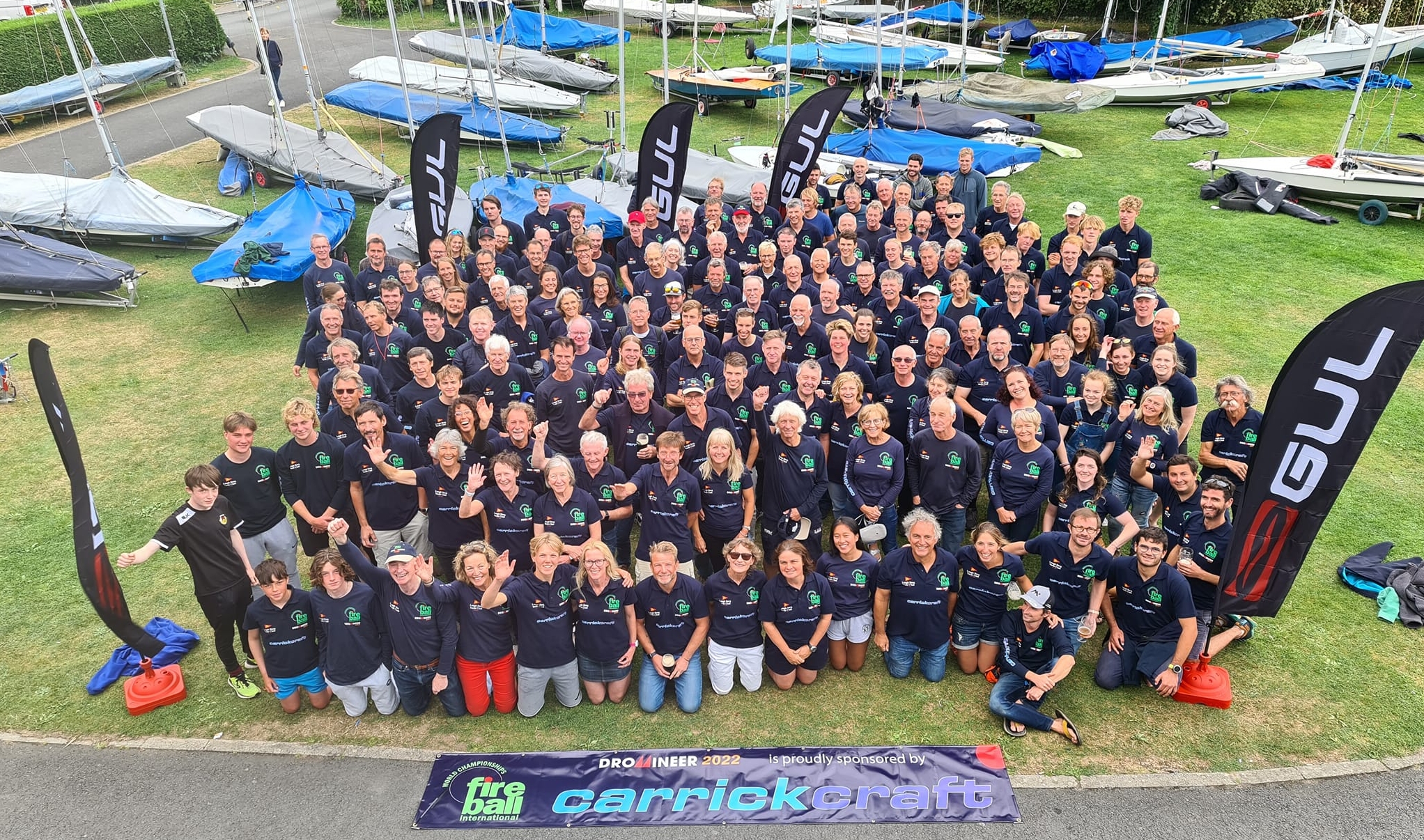 Reports: 
International Week / IRL Nationals
Very windy 2 days. 6 races. Winners: Isaac Marsh & Ollie Davenport (GBR), 2. Jiri Paruzek & Jakub Kosvica (CZE), 3. Chris Bateman & Thomas Chaix (IRL)
Day 1, Races 1-3: Y&Y report
Day 2, Races 4-6: Y&Y report
GUL Worlds

Sunday, Day 1: no wind, no racing Y&Y report
After several days of blasting winds throughout the Irish Nationals no wind came for the opening day of the Worlds. We waited on shore for a few hours until a slight breeze filled in. Launched, sat on the water for a few hours waiting, and slowly sailed back in.
Monday, Day 2: races 1-3 Y&Y report
The class got in three good races with 79 boats on the water. The wind from SW varied from slow to patches and gusts well into the mid-teens. With up and down winds and a huge field, lots of boats had both good and bad races. First leaders: Tom Gillard/Andy Thompson (GBR) followed by Barry McCartin/Conor Kinsella (IRL) and David Hall/Paul Constable (GBR).
Tuesday, Day 3: races 4-6 Y&Y report
The fleet sailed out early on a beautiful, sunny, summer morn in Ireland. We needed to make up a race as Sunday had been lost and the committee did a great job getting in 3 races with only two general recalls. 
3 more lighting tough races were held either the wind from the SW. The AUS duo Heather and Chris were fast out of the blocks and crossed the fleet on port and had a 100 metre lead at the top mark. Unfortunately they were ground down when they missed some shifts and ended up second to Tom Gillard/Andy Thompson. The second race was a lot closer and while Heather /Chris held the lead for a while ended up 3rd to Martin & Daniel Lewis and Dave Hall/ Paul Constable. The third race saw Tom / Andy in first around the first mark with Heather/ Chris in 3rd. After a number of shifts Tom/Andy won with Heather/Chris in second.
In the lead after 6 races Tom Gillard/Andy Thompson (GBR), 2. Heather MacFarlane/Chris Payne (AUS), 3. Barry McCartin/Conor Kinsella (IRL) .
Wednesday: Lay Day, no racing
Wind predictions were all over the board ranging from 6kn - 18kn SW. The fleet sailed out into a chilly, overcast early afternoon. Would the storms hit us or not??
Race 7 was off with a moderate light to medium breeze. The fleet worked they way around the course looking for the ever shifting breezes.
Race 8 was looking like another light wind race between heats but began to pick up just before the gun.
Bang,,, and the boats took off and soon enough the shifty winds picked up. Crews were dancing on the decks,,, in and out,, then in really fast and back out. Wooh, things were getting active. Then WHAMMY!!!
The front guys got hit with a massive shift and almost simultaneously much of the lead group were in the drink. Heather/Chris, Claude/Ruedi, Dave/Paul, and others were all on their sides. 
Gillard/Thompson (GBR) won both races, Mermod/Moser (SUI) consistent 2-2 and moved up to 3rd overall. MacFarland/Payne (AUS) still 2nd. Before the last day the Ausies can't win but the Swiss have a mathematical chance after a master class from Gillard/Thompson.
The fleet woke up to find a change in the weather. A cool northern breeze had replaced the normal south westerlies. All the boats went out for the final battle.
For race 9 the wind was gusty a shifty. No one knew which way would pay. The Swiss duo of Claude Mermod and Ruedi Moser sailed a brilliant race to win but with Tom Gillard and Thompson in second meant Tom and Andy are the 2022 world champions. 
Race 10 had several starts including a black flag that sent several boats home. The wind started to do major shifts causing several mid-starts and course changes. Finally the committee called it a day with no race 10 and the black flaggers got off without any loss.
Super congrats to Tom Gilliard and Andy Thompson of Great Britain for taking home the 2022 Fireball World Championship trophy. Tom did it for the 5th time!
Photo Gallery (© different volunteers)
Videos: First days © Joshua St John | Wrap up © Irish Fireball Association